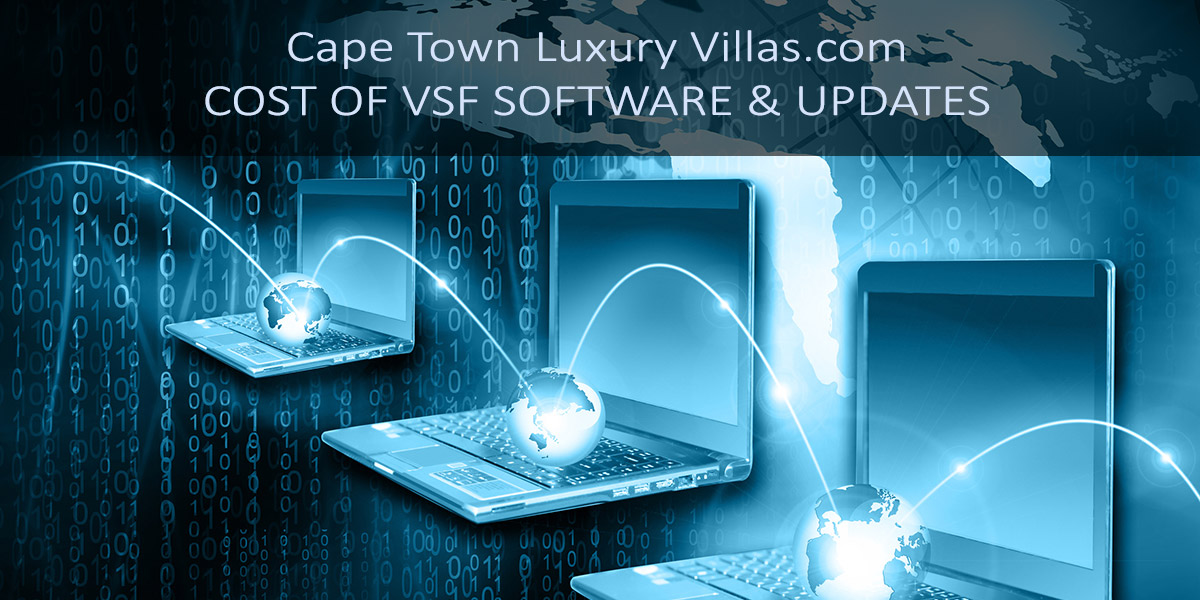 Cost of VSF Software and Updates
for Cape Town Luxury Villas
By Nick Ray Ball 9th March 2016
'For Cape Town Luxury Villas.com the cost of the Villa Secrets Frameworks Software: Magic Menus, VS Mobile & the Divergent CRM will cost $229,000, which is less than 8% of its development cost.'
This software is as unique as it is awesome and is being developed over three years at an estimated development cost of ZAR 45,500,000 (£3,000,000) ($2,900,000). Cape Town Luxury Villaas.com will only pay for software after it is installed, working and training videos have been created.
However, for Cape Town Luxury Villas.com the cost less than 8% of development being ZAR 3,499,000 (£162,000) ($229,000)
The Software is as much about improving efficiency as it is about marketing, so far 93 different ways to improve conversions and increase one's market are considered. And in so doing Cape Town Luxury Villas.com is expected to increase turnover by 450% in three years for only a 60% increase in costs.
It is further expected that during the three years of development many more profit enhancing factors will be included within the Villa Secrets Software Framework design, leading to maybe 200 different individual profit components.
Here is a quick video that summarises:
The spreadsheet can be seen by following this link, or you can download it here
It starts with six items that are currently in development, from the addition of ASTA & PRS Memberships presented nicely in the footer of the website and emails of a cost of only R316 (£15) ($20) which is expected to increase turnover by 3% and costs by 1%
To the awesome VS Mobile, soon to be one of the world's leading property / travel mobile websites for R136,955. (£6,350) ($9,020). $8,765. Including a new AdWords campaign VS Mobile is predicated to increase turnover by 34% and costs by 10% marketing cost.
However, most VS Software updates have a very low or no cost, for instance Magic Menus is desired to increase turnover by 11% and has no associated ongoing cost. Just the initial ZAR 95,888 ($4,444) ($6,313) fee to Villa Secrets for development and instillation. Paid for only after completion, testing and training.
Most software specified will have additional components added, such as VS Mobile showing the Divergent CRM. All new upgrades not mentioned on this list will be available for free, unless there is a general licence fee applicable to all Villa Secrets franchises.