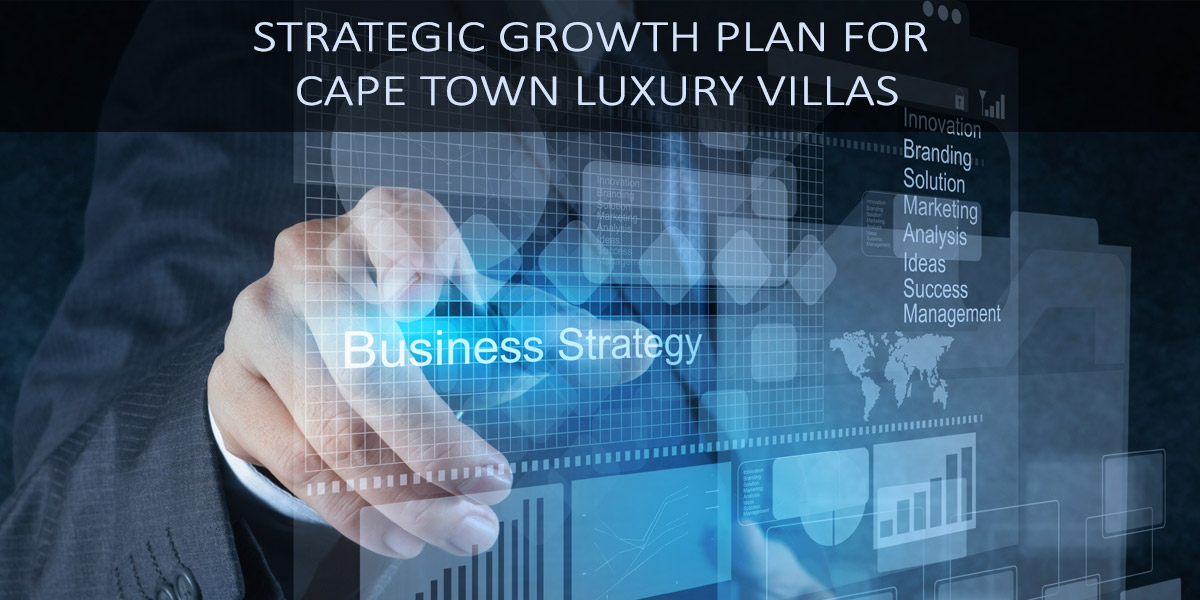 Strategic Growth Plan for Cape Town Luxury Villas
By Nick Ray Ball 29th Feb 2016
Considers content marketing, mandates, networking and the benefits of using the future Villa Secrets software, which can increase profit by 400% in three years
Point nine of '10 Ways to maximize the value of your business' asks for a Strategic Plan: 'A written strategic growth plan that clearly documents the areas the company can grow can be an asset to buyer.'
In this document we present such a plan in 2 parts. First is a strategic growth plan that considers the current business and includes Villa Secrets membership & Content Marketing.
And second is a plan that considers the effect of using the Villa Secrets software in the development queue: VS Mobile, Magic Menus & the Divergent CRM.
Part 1. Current Business
In this strategic plan we consider the Cape Town Luxury Villas website as it is now including membership in Villa Secrets. See '10 Advantages for membership of the Villa Secrets Network'
Content marketing – (Blog/Magazine)
First for growth we advise that the future managers either hire their own content writer or purchase one 'fresh' article/blog like: Bond House Villa or Pentagon Villa every 2 weeks for R3,500 each. Posts will appear in the Cape Town Luxury Villas blog, which we shall be rebranding as Cape Town Luxury Villas Magazine.
Alongside some local SEO that we are currently performing and guest blogging on hi domain authority luxury travel sites, over a year with good content marketing one could expect to double free traffic from Google and Bing. Which currently makes up about 25% of enquiries generating R350,000. For a pay out of R91,000 one could reasonably expect a return of R350,000 and further gains year on year.
In addition, the great looking magazine pages such as: Oceana Villa & Maison Noir Villa really impress clients, and improve conversion rates in general.
Property Mandates
If we go back to the 2014 Cape Town Luxury Villas strategic growth plan www.cape-town-luxury-villas.com/info/ElevatorPitch.html, we see how the recruitment of villa mandates accounted for 64% of the projected turnover.
However despite a database of over 400 active villa owners, who may be interested in signing a mandate, the previous management did not make any approaches.
We strongly advise the new management to approach and recruit villas to exclusive or part exclusive mandates. This avenue should be a fundamental pillar of any strategic growth plan.
Being a member of Villa Secrets, the new management team will be able to offer a Villa Secrets mandate to owners. See updates in the Villa Secrets business blog soon for more on this.
Agency Networking
As Cape Town Luxury Villas has the largest database of villas, the previous management received enquiries from Agency/Property Management companies such as Cape Portfolios and Sea Sky Villas. This was when they had an enquiry for a villa but had no availability within their own portfolio.
If the new management were of a social disposition, one can create growth simply by networking within the Camps Bay villa community. Which is done by attending new villa presentations by agencies and when one has villa mandates signed to create 'show days' with drinks and canapés.
Use A CRM (Consumer Relationship Management)
Another strategic growth option is simply to get more organised and use a CRM, HubSpot at $10 a month per user would improve growth. Salesforce at $130 a month would improve more.
However, Villa Secrets is creating a suite of additional functionalities for the above CRM's that will greatly improve efficiency.
Part 2. Future Business
In this, the second part of the Cape Town Luxury Villas strategic growth plan, we consider the benefits of using the Villa Secrets software in the development queue.
This is unlike part one which considers only the current Cape Town Luxury Villas website and systems plus an annual R91,000 content marketing cost. There is a cost for installation of the software. Albeit paid in stages, per item, only after successful installation and training is provided.
However the software plans are years ahead of their time!
This section is very detailed. To start we have descriptions and over 5 hours of video on the software: VS Mobile, Magic Menus & the Divergent CRM.
To assist we have created a spreadsheet that plots 92 different increases in turnover or saving of costs. You can download it by clicking the following link: Additional CTLV Profit Streams-3 Year Normalised Profit Projection
The spreadsheet its summarised on this video. Which also presents a 4 year 'normalised profit' projection.
As we can see the 92 different actions applied to Cape Town Luxury Villas in the video increase profit from R1,018,950 to R4,225,409 in year three. This includes generous expenses and low estimates.
The majority of the increase comes from improving the efficiency of Cape Town Luxury Villas. Currently, about 1 in 30 clients that come to the website make a booking. VS Mobile, Magic Menus & the 'Divergent CRM' in its many parts greatly increase efficiency.
This added to the recruiting of mandates and additional content marketing and 24/7 live chat is set to increase profitability by a factor of 4.