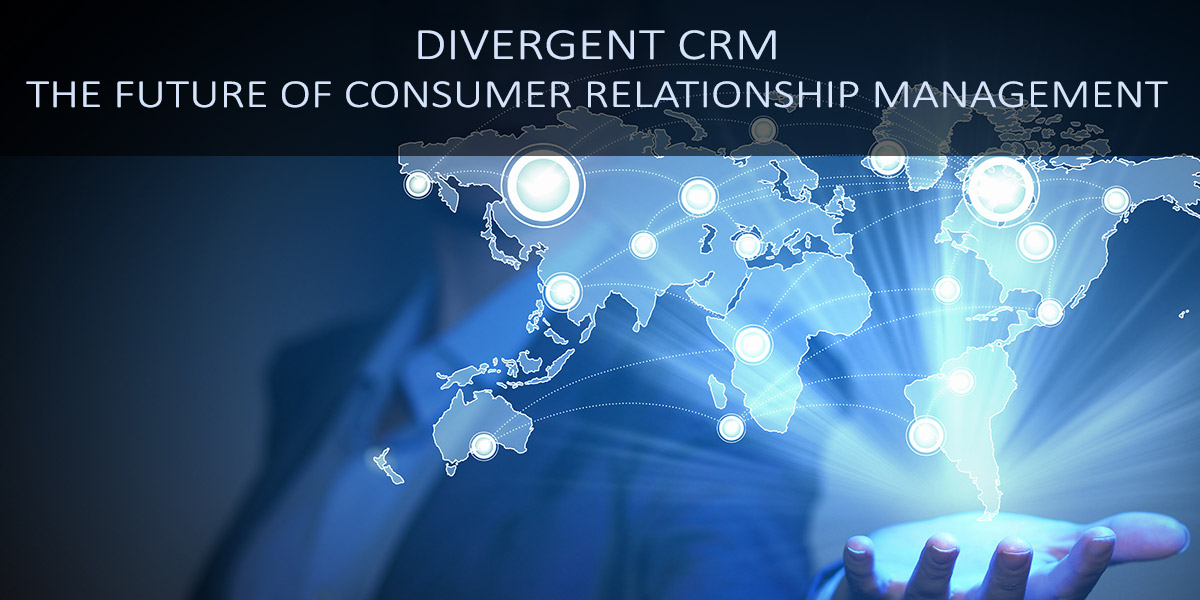 The Divergent CRM
The future of Consumer Relationship Management
By Nick Ray Ball 19th Feb 2016
Presenting over four hours of Video on the plans on for multi-purpose marketing and efficiency software, the Divergent CRM, the future in Consumer Relationship Management
Welcome to the Divergent CRM & Marketing Platform
Video 1. Divergent CRM – Introduction – 24 Minutes
Original Plans + Magic Keywords + Magic Menus + Enquiries System + CRM + Email Marketing + Clients & Owners CMS + Booking Systems + Financial System + Marketing Platform + Content Marketing + Analytics + Sienna-bot + Hospitality + Live Chat + Experience Africa Safari Systems + Financial Predictions + Tutorials and the Tutorial Game
What are we trying to achieve?
One single integrated CRM to follow the enquiry journey staring with the moment the client came to any Villa Secrets website and the search term used, then the journey to the specific agency's website including all pages visited so far and over what timeframe.
When an enquiry is received the system starts emailing contacts for appropriate villas to assess availability, and the 'Magic Menus' system presents villas for review. By the time the agent gets to the enquiry a lot of work is already done, in some cases their will not need to be an agent. In some cases, the client will deal directly with the property manager. But at first we are assisting the sales agent.
The enquiry process is handled from one interface, emails sent and received all actions recorded in the agent CRM and client suite.
Once confirmed the CRM changes to hospitality and accounting modes. The Hospitality reps and concierge staff present additional options and deal with requests, assisted by the system. Created to handle complex logistics for Safari bookings, the system creates itineraries and when assisted by live chat becomes equal or even superior to any experienced agent, available 24/7.
In tandem to the hospitality, in the financial CRM the booking is matched with the automatically captured bank transactions. Mostly the allocation of payment is automatic and in all instances the management accounts are updated.
The 'Magic Management Accounts' are also updated with all bookings and well-considered estimates of the enquiries in the sales tunnel. Using a unique two step assessment process based on availability of the product and the average amount of sales made from enquiries at the specific stage in the sales tunnel.
This 2 step process and the rules that are required to action it, are very specific to the niche 'top end vacation rentals' and as such the CRM contingent is uniquely useful.
Since day one of planning in 2011, each niche needed its own customised version of the software, as this is what makes the difference between it and multi industry leading CRM's such as Sales Force.
In addition to the above: booking systems, newsletters, analytics, content marketing, SEO, customer service, hospitality, logistics, pricing, reviews, product listings and tutorials all combine within a single system.
The Divergent CRM is not being built for sale, instead the divergent CRM is being created for all who use or start a S-World franchise, initially in Villa Secrets but soon after in safari travel and property sales and in time many other industries, or if we consider American Butterfly.org we see a plan for all industries
It's a lot of work to do, initially quoted in Video 2 at five or six years. However, the two most theoretical components have been moved into independent software categories and so we would expect to see most of what is presented created within two years, with the systems that will make the most impact created in stages during 2016.
Video 2. Divergent CRM – Parts 1 to 3 – 48 Minutes
Original Plan + Current Projects + Enquiries System
1. Original Plan: Looks at the original software development and networking plan created in March 2011. Which describes a CRM connected to a human error proof financial system and an automated on line booking system, within a framework that would create many web franchises.
2. Current Projects: Looks at our existing in-built SEO software 'Magic Keywords' which provides about 25% of Cape Town Luxury Villas.com's current business, from long tail keyword Searches. As well as considering our current software development project 'Magic Menus' alongside our unique way of programming systems which we call 'CMS Logic.'
3. Enquiry Systems: Looks at our current basic enquiry system and considers ways to automate new enquiries to send emails to property managers and villa owners, to get availability and pricing on the hundreds of villas that are not on online bookings systems. Later in 'Analytics' we see how we wish to increase our knowledge of each enquiry with data that happens before the 'book now' button is pressed.
Video 3. Divergent CRM – Part 4 – 37 Minutes
CRM – Consumer Relationship Management (sales tools)
4. CRM: In this video we look at current CRM systems. We are looking for a clear path from enquiry to sales, that is simple for Microsoft Outlook users. In addition to we need to consider pricing, as it is our intention to create thousands of franchises often for small business.
First up us the HubSpot CRM and its 'Microsoft Outlook' component 'Sidekick.' At only $10 per person with no restriction on API calls. This CRM is currently being tested, but so far it does not work in the way we wish the Divergent CRM to work.
Next we look as Sales Force, which we are yet to test. But from what we have seen from the tutorial videos, the workflow seems closer to how we want and it has excellent management reporting tools. However, at about $1,500 per user per year, paid upfront, for small franchises starting up in countries with weak currencies it becomes expensive. We also expect that it has been created for standard retail or b2b sales staff.
Other options are Microsoft Dynamics, Sugar CRM and ACT
At the time of writing '17 Feb 2016' it's currently a case of system architect Nick Ray Ball simply using the various options for his own tasks as seeing the strengths of weaknesses of each. In the long term we would wish all the above to be connected to the Divergent CRM API, so the system can easily integrate with businesses that use one or the other.
Video 4. Divergent CRM – Parts 5, 6 and 7 – 29 Minutes
Email Marketing + Clients & Owners CMS + Booking Systems
5. Email Marketing: Picks up from part 3 'Enquiry Systems.' Looking specifically at contacting property owners using Customer.io or Intercom, albeit none are a perfect solution. This section also looks at contacting guests before and after their holiday using SalesForce, MailChimp or Tribulant. And in addition offering gifts to previous clients and potential clients.
6. Clients and Owner CMS's (Content Management Suites): Looks at the creation of good looking, user friendly client and villa owner/manager CMS's. In the case of clients presenting their favourite villas, their day to day itinerary, email history, financial information, hospitality and concierge requests, all found in one great looking set web suite.
In the case of property manager and villa owners the CMS would present all the options necessary to complete standard and enhanced webpages alongside calendaring options and property management options, plus options to see current clients requests and the option to make offers.
7. Magic Prices: Considers a system designed to make pricing of villas and estimation of income simple by using 'Magic Prices'. Which gives an accurate 1, 2 or 3-year income forecast in a matter of seconds. Including seasonal variations and occupancy. Using this as the starting point for any potential new mandate will likely secure the villa for the franchise.
This video also look briefly at the research for Villas Cloud.com the Villa Secrets property management and marketing system in preparation.
Video 5. Divergent CRM – Parts 8, 9 and 10 – 33 Minutes
Financial System + Marketing Platform + Content Marketing
8. Financial System: In this video we see the concept 'Magic Management Accounts.' Starting with the dataflow at the earliest point, the enquiry recorded all the way through the sales process then fed directly into the financial suite.
Before the data is processes in the financial suite, the banking data will have been captured, initially via spreadsheet download and input to our system, but later using banking API's such as Barclays.net. Once the data from the bank meets the data from the enquiry in most cases the part to payment of supplier would be auto assigned just needed to be authorised.
The data, updated daily creates management accounts so accurate and so well presented it cuts costly of accounting for tax returns to just about zero. And could be adapted easily to handle all accounting.
9. Marketing Platform: Starts with Villa Secrets special source 'Google AdWords' which is the driving force for any new franchises created in new locations. Cape Town is already the world's most expensive location to bid on the word 'villa' and recently Cape Town has seen a failed assault from AirBnb looking for the No1 spot.
Whilst we are No1 and No2 in Google AdWords things can still improve with better analytics as is explained later in the article. The stablemate of AdWords in re-marketing and AdRoll, which again can be improved by better analytic reporting.
However, in terms of direct integration into the Divergent CRM both HubSpot and SalesForce have competent and quite different marketing systems. We will likely run with both, some franchises using HubSpot Marketing and some using Sales Force both integrated into the Divergent CRM. Marketo also looks good, but as we would already be connecting to the HubSpot and Sales Force API's for their CRM, they marketing software will likely be evaluated and tested first.
10. Content Marketing and Media: Looks at Social Network Integration and Inbound marketing with our hybrid WordPress system creating really good looking blog displays and individual blogs. Which are automatically syndicated/shared to about 20 different social networking sites. Which could be syndicated/shared a lot more, by sharing to multiple Facebook, Google Plus or Linked in business pages or main feeds.
Using PitchBox we will soon start searching for luxury travel blogs with high domain and page authority asking to guest blog, each time linking back to our Villa Secrets websites.
The hospitality and concierge teams, in each location will be staffed from persons with a primary skill as a journalist/copywriter, photographer, camera man or presenter, so creating a team capable of producing top quality blogs, videos and even TV shows.
Using the material created from the above, and in addition to considerable experience and an original concept the 2017 Villa Secrets & Experience Africa Magazines will be created, organised within the CRM.
Video 6. Divergent CRM – Part 11 – 35 Minutes
Analytics
11. Analytics: Starts with Google Analytics and mentions that only Google Analysis can extract Google AdWords data. Then presents our desire to track booking requests back to the campaigns and keywords that created the enquiry, from both PPC and organic searches. And explains how we would do so.
Presents 120 different pages on Cape Town Luxury Villas that due to 'Magic Keywords' have all shown in Google and have received clients.
Continues to discuss and looks at HotJar which provides analytics that assists in the client's flow through the website, page to page, button to button.
Follows on to KissMetrics, which we show us the amount of visits and page views that clients have looked at the time of and after their enquiry.
Also considering Optimizely, Adobe and various social networks such as Facebook and an multiplatform toll from Coosto
Video 7. Divergent CRM Parts 12, 13 and 14 – 31 Minutes
Sienna-bot + Hospitality + Live Chat
12. Sienna-bot: Looks at the creation of a friendly automated robot that assist the agent and client. The Sienna-bot will be the vehicle to improve the clients experience and to gain more valuable/specific information from the client to the agent during the enquiry process.
Create a system that connects the client to the villa owner, within a limited capacity, such as getting availability, prices and presenting offers. Or allowing direct communication in a AirBnb manor.
13. Hospitality & Concierge: Looks at the likelihood of the Divergent CRM creating a custom application for itineraries alongside a system for clients to add concierge items to their stay, via mix of online bookings for cars, and bespoke emailing of vendors for items such as shark diving. Alongside a wealth of blogs made by the hospitality team on free activities such as hiking or choosing a beach.
There are a number of software applications we could consider such as the Service Cloud by SalesForce & FreshDesk. Which we will try and evaluate, and connect if necessary, however its most likely we will create a custom application ourselves, particularly as for Experience Africa we need a very competent system specific to the needs of the 'Safari Booking' niche.
In addition, since the original 2011 plan, we desire to send our clients gifts on special occasions.
lastly we mention two companies that appeared for searches for concierge software: ResortSuite and 10Concierge which may be of interest.
14. Live Chat: For live chat we will likely use the market leader 'LiveChatInc'as they seem as good as any other system, with a superior API. However, we have a unique system for live chat that is not software based rather it focuses on the live chat operators, who will first be qualified as copywriters. Who blog and write articles when not on line.
The constant blogging will give each operator experience of our villas and safaris and their natural penmanship skills combined with product experience added to Magic Menus and the Sienna-bot may create a team that can close enquiries directly. It will certainly greatly add to content marketing and SEO.
Video 8. Divergent CRM Parts 14, 15 and 16 – 37 Minutes
Experience Africa Safari Systems + Financial Predictions + Tutorials and the Tutorial Game:
15. Experience Africa as a non-profit business is described in described in a separate video. The project started 2009, but the first website CMS was buggy, by 2011 it became centre stage of the original system business plan and then in 2013 was suggested as loss leader in American Butterfly part 4 in 2013.
It was restarted in October 2015 with plans to creating a string of 16 non-profits that would contribute half of turnover to Conservation. But paused in December.
It has its own unique system that evaluates safaris, based on thousands of pages of data on other tour operators, awards and travel authorities have said, creating a 'best of the best' product presentation.
Data will be the key ingredient for Experience Africa, with CMS's on all aspects of a trip, from experiences such as air ballooning, to how many Rhino's one should expect to see, from each individual safari, creating a far more accurate overall picture of wildlife than can be found on any one website.
A strong CRM is required to handle logistics and assist the sales people, or live chat operators. An equally strong CMS tool is required to monitor the progress of the causes Experience Africa companies donate to.
Work will continue on this project after the parent charity of Experience Africa 'The Sienna Foundation in registered in the summer of 2016.
16. Financial Predictions from the CRM
this point and the last point, stray significantly into the theoretical work created as American Butterfly. However, there are some parts specific to the Divergent CRM.
In particular the spreadsheet created for the programmers that shows the two sets of averages, generated by the system to assess the likelihood of the booking. First is the availability, depending on the time of year an enquiry is made. For instance, a 10-night stay in February may receive a 100% possible score if requested ten months in advance, but receive just a 12.5% score if requested at the last minute.
The second factor, considers the average conversion rate of the sales person, created from past data. If the sales person converts one sale in 4, due to competition this factor is considered asides the availability and combines with other rules such to create an intelligent automated sales tunnel.
Some work on Chaos Theory and better long term financial projections is presented alongside the SUSY Hierarchal Spin Equalizer. All of which continues within the final section of The Divergent CRM, the Tutorials and at a later time the tutorial game.
17. Tutorials and the Tutorial Game:
For users of Cape Town Luxury Villas, Villa Secrets or any future brands we will be creating many individual +/-90 second videos for quick reference on any individual point of the CRM and CMS's, in addition edited mini movies will look at sections and eventually the entire process.
The BFA 'British Franchise Association states that good tutorials are essential to any franchise. From systems use to sales techniques to the use of Super String theory within the network. We will create a vast bank of tutorial videos and recommended other videos and in time create a game as is described in various points within S-World & American Butterfly book 1 'The Theory of Every Business' Chapters seven and eight. More on this in future videos.