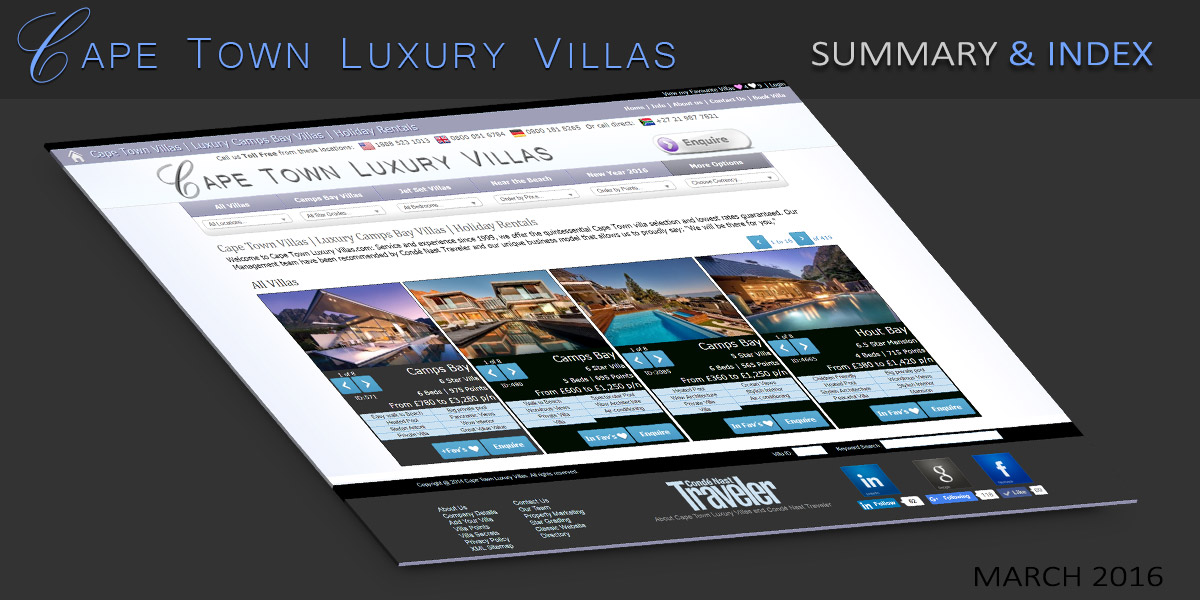 Cape Town Luxury Villas – Index and Summary
By Nick Ray Ball 17th March 2016
Cape Town Luxury Villas is an OTA (On-line Travel Agent) specialising in hi end vacation rentals in Cape Town, South Africa.
The business has done well , launched in March 2014, by 2015, in its first full year of trading it created turnover of $650,000, beating its parent website Cape Villas.com , which has been trading since 2002. Generating Share Holder profit for 2 directors of $72,000
The perfect formula for any franchise or outright purchaser, a business that can be taken over without concern about the effects of the CEO's direct influence. Indeed  this has been grooved twice, as since Feb 2016 a new management team have taken over and to date the new team are doubling both turnover and profit.
However, so far, we only have half the story, as the software and systems that have been specified and are in the development queue, VS Mobile, Magic Menus and the 93 profit increasing features within the Divergent CRM are reasonably presented as able to increase profits by 400 over 3 years.
Be it as a franchise or a independent company with access to the software updates, the future for Cape Town Luxury Villas.com is very bright indeed.
When considering the above, one needs to understand the non profit – reinvest into technological development model of Villa Secrets. As the Villa Secrets network is a prototype for a the S-World network described within 'The Theory of Every Business' All franchisee fees are spent on development. The bigger the network, the more development and the more development the greater advantages the individual companies within enjoy.
Index